Mx Track Markers by C PLAST
This product has been created to improve the visibility and security of motocross tracks. C PLAST has developed specific motocross track markers products for event organizer and club to homologate their own mx track.

2013 GP of France Moto Club dErnée special Track Markers by C PLAST
C Plast Track Markers™ description™
The track markers is composed of two plastic parts joined together, used to materialize the inner and outer boundaries of a motocross track following the rules of the International Federation of Motorcycle (FIM). The visible part of this tag is very flexible and is not dangerous for the riders in case of a fall. As for the non-visible part, ending up in the ground, it is rigid and sharpened enoughto be easily pushed into soft ground with the aid of a mesh.
Two models available call U.S and E.U
US Track Markers
is narrower than the EU track markers and has the sole function of materializing distinctly the side of the track.
Europe Track Markers
Width gives it maximum visibility; To create a continuous impassable line, track marker tape could be used easily.
Using requirements and features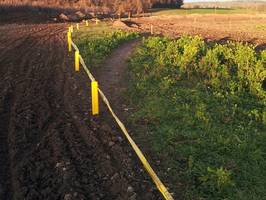 For a markup with a maximum visibility, EU track markers can be planted all 4 meters in straight lines, all in 2 meters in closed curves up to 90° and one meter in tight bends exceeding 90°.
For a standard markup, the US model is recommended with a spacing of 3.5 ml in straight lines and the same spacing as EU Track Markers in curves and turns.
You can optimize the markup by mixing the two models of EU and US C PLAST track markers. US models can be used in straight lines and outside turns. EU models markers will then be highly effective in the inner turns with track marker tape complement.
C PLAST track markers are highly visible in several colors (yellow, green, orange, white). Plastic stakes are easily installed in the earth on the side of the track. Not only do these stakes give the track a clean, professional appearance, they also are safer and easier to move than hay bales. As hay bales sit at the edge of the track, they become water logged from track watering. Also, they are quick and easy to move around because they simply press down into the earth.
Références :
Several motocross event organizer trust us to certify their track for :
Moto Club d'Ernée (53)
Moto Club d'Yzeure (03)
Moto Club de Valence (26)
Moto Club Thomer la Sogne (27)
Moto Club Ahun (23)
Moto Club des Puys (19)
Moto Club Agenais (47)
Moto Club Mervillois (59)
MC Sport Mécanique à Crampons SMAC (02)
Ecole de motocross Camizoé (03)
C Plast Track Markers details & 2015 Prices
click on the picture below to download PDF document.