Road sign
Tubes Road Signs, Snow Pickets
Plastic snow pickets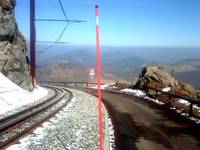 Snow pickets , also known as road signs are used to mark road edges in the event of snow, thus contributing to the safety of all motorists.
Traditionally, these poles were made of wood, but the use of plastic helps to increase their visibility and lifespan. C Plast offers them in a wide variety of diameters and lengths.
The standard dimensions are 25 mm, 30 mm, 40 mm, 50 mm or 75 mm in diameter in lengths from 2.10 m to 2.50 m.
The materials used are pvc, polyethylene (pe) and polypropylene (pp). The posts are made with or without reflective strips.
Custom snow poles
In addition to the "standard" dimensions, C Plast can custom-build snow pickets in special sizes between 1 and 3 m in length and in any diameter.
Similarly, C Plast can manufacture road signs in any color, with or without reflective tape.
There is currently no standard for snow pickets, so C Plast is able to adapt to all specific requirements for road signs or snow pickets.
Different road signs produced by C Plast
Snow pickets
Milestones
markers
Game protection pole
Game protection milestone