CPlast, the specialist in plastic fence / plastic barrier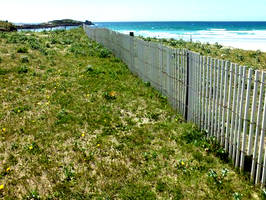 Historically made of chestnut wood, Ganivelles (or girondine barriers) are barriers made of vertical wooden slats assembled and spaced by wire.
Traditionally, cranes are used to protect the dunes or to protect the roads from snow drifts.
A more recent field of use for cranes is the marking of motorcycle circuits.
C Plast invents plastic Fences
The plastic crank was invented by C Plast at the request of a motorcycle circuit, which wanted to have more visible and more resistant barriers. This product was then adopted by other motorcycle circuits for their many qualities.
The advantages of plastic crank
Visibility
Strength
Aesthetics: a wide range of colors
Aging resistance
Weight (10% lighter than wood)
Protection against vandalism
Recyclable
Environmentally friendly, made from recycled materials
Plastic crank: an ecological solution
The plastic used by C Plast for the manufacture of its plastic barriers is made of recycled plastic, and it is itself recyclable.
More durable than wooden crank, the crank is less often replaced, and it is less prone to vandalism because of its robustness and because it is not flammable (M1).
p>
How does the plastic crank of CPlast look?
C Plast manufactures its cranes according to needs: size, color, lath spacing, and ability to adapt to any demand :
Height from 0.50 m to 2 meters
Adjustable slat spacing from 3cm
Color
Areas of use for plastic crank
Circuit layout
Hazardous Area Delimitation
Area delimitation (parking ...)
Protection of the dunes
Delimitation of traffic areas
Protection of roads in case of snow
Windbreak